Pagamenti
Diritti e Garanzie
Privacy e sicurezza
Contatti / Orari
Tempi di Spedizione
E' possibile verificare i tempi di spedizione per ogni prodotto nella scheda di dettaglio, oppure cliccando sull'icona della disponibilità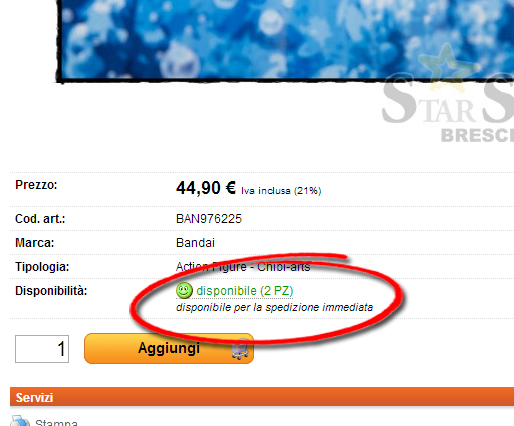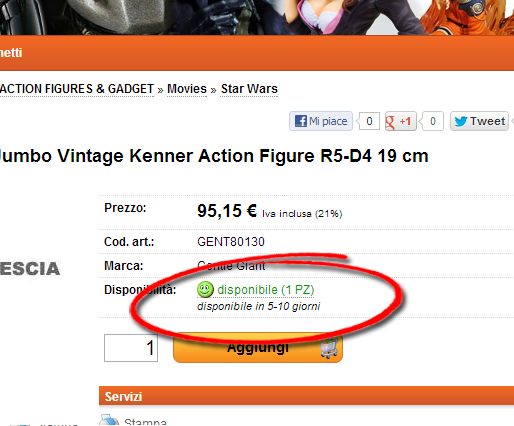 I prodotti in disponibilità immediata verranno spediti entro 24h lavorative.
Ove diversamente indicato, i prodotti verranno invece spediti entro 5-10 giorni.
Nel caso di ordini multipli, la spedizione combinata verrà evasa quando tutti i prodotti ordinati saranno pronti per essere spediti.
Ritiri in Negozio
Solo una piccola parte dei prodotti in vendita sul sito è disponibile immediatamente presso il nostro negozio.
Qualora vogliate visionare, anche senza impegno, prodotti specifici (che risultano in disponibilità sul sito), è sufficiente che ci contattiate telefonicamente allo 030.294730 con 24-48h di anticipo.
Carrello
Il carrello è vuoto
Feedback degli utenti
26.09.2017

Aggiungerei Prime al nome del negozio. Velocissimo. Straconsigliato

26.09.2017

perfetto

26.09.2017

perfetto

26.09.2017

Venditore serio e affidabile. Oggetto impeccabile. Al prossimo acquisto!.

25.09.2017

Came in excellent condition; I look forward to ordering charms from here again.

25.09.2017

Excellent Seller, very fast and all perfect. Great packaging. Thank you!!

25.09.2017

Figure bellissima!!!! Spedizione velocissima e sicura! Venditore professionale!!

25.09.2017

On time and in order

25.09.2017

very good thanks

25.09.2017

fast and efficient. Thanks!
Elenco completo »